Domestic and SME applications for microCHP
For domestic and small to medium enterprise (SME) applications, the microCHP unit in your home or business will do much the same as the larger scale CHP methods but on a much smaller scale. As previously mentioned, at an industrial scale, a vast amount of energy is wasted, both in its creation at the power plant and in its transference to your home or business (this industrial process can be as low as 30% efficient). It is this on-site, co-generation method that greatly increases the efficiency of the energy production process and thereby lowers the combined carbon footprint and reduces your reliance on expensive 'dirty' electricity from the national grid. mCHP boilers claim efficiencies of up to 98%!
MicroCHP Process Diagram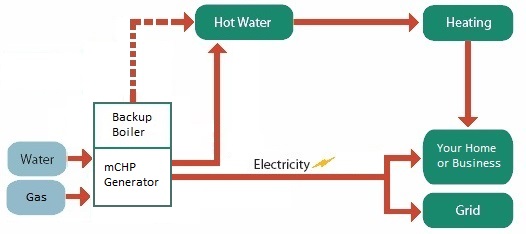 MicroCHP for the domestic household is a relatively new technology. Up until 2006 the economic viability when looking at the available 'domestic' unit's payback period, rendered the micro-CHP technology unfit for domestic use, however this is all set to change in the very near future, with many competitively priced units preparing to be released to the wholesale market. As they begin to appear on the US market, please check HERE as we will list both the units themselves and installers who will supply and fit them for you.