Green Walls / Living Walls
Green Walls
Green walls are essentially vertical gardens that can attach to either the inside or outside of a wall and are slightly different from other designs, utilising plants such as climbing ivy or clematis, in that the plant material is actually rooted into the wall fixing itself. In other words, the plants don't grow up from the ground but grow out of the fixture, gaining their nourishment from the soil in it.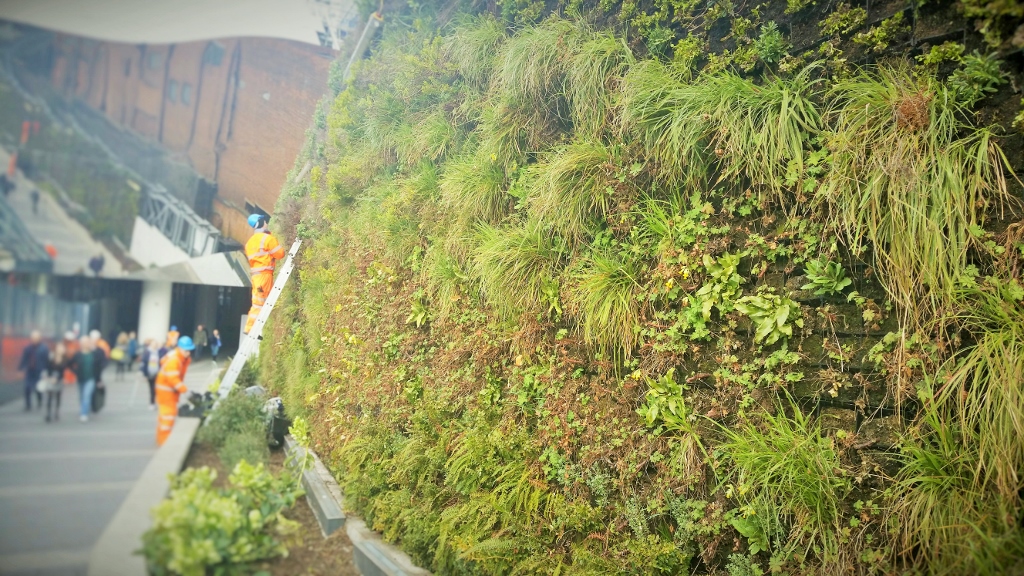 The Green Wall at Birmingham New St Station UK
Green Walls and Diversity
Green walls have just as much scope as their horizontal counterparts and many different plants can be used, often creating stunning effects on the side of a house or office block.
Green walls have a number of benefits similar to roof gardens:
They are easy to install and can make a grey, uninteresting space look vibrant and eye-catching.
They are considered low maintenance and great for insulating a building in a more natural way.
They attract wildlife such as birds and insects that are pretty good for the environment.
Types of Green Wall
Green walls are usually categorized by the type of medium the flora is planted in. Much will depend on the sort of design that you are hoping to create and the amount of money you are prepared to part with. The great thing about green walls is that they can be as complex or as simple as you like.
Loose media walls use small compartments, with soil on individual shelves or in simple growing bags, which are then attached onto the wall. They are not as stable as other green wall installations and it is best not to fit them on structures that are over 8m high as wind can be a factor.
Mat media use either felt or coir fibre mats that can be planted onto directly. They cannot take mature plants as the roots tend to clog the matting and prevent adequate irrigation which means they may need a little more maintenance.
Structural media incorporates the best of both loose and matt in a block form and are much longer lasting. They are considered the more robust option for both indoor and outdoor living walls.
How to Put Up a Green Wall
If you don't want the challenge of erecting an engineered green wall then you might like to consider planting some climbing plants and wall shrubs such as ivy or clematis that can essentially look after themselves. These can be planted at ground level and then will climb up the wall over the years to create a rustic effect.
Whilst a full green wall requires more effort and expense, it provides the chance to be more creative whilst also having numerous eco-friendly side effects. First of all, unless you have the skills, a living wall will need to be installed by a professional. A frame will have to be built and the wall will require an irrigation system to keep the various plants alive.
The type of plants you choose will depend on the location of the wall. For example, if it has more shade than normal, then choose plants that prefer that kind of habitat. You will may also be better off choosing a variety of plants that require about the same amount of water (otherwise the irrigation system becomes more complex and costly).
If you have the right space, you can grow anything from strawberries and begonias to purple sabre and busy lizzies. The benefit of green walls is that they enable you to be as creative as you want.
The Best Green Walls
Do I need Planning Permission to Build my Green Wall?
As with green roofs, green walls are will probably be subject to local planning laws and you need to check that you are not falling foul of the rules. Some states may have concerns about the potential of a fire risk during the summer months, particular the further south you go in the US.
Finding the Right Installer
Having a living wall installed is becoming more popular for domestic premises and offices. You can search our database for green roof installers in your area and check out the kind of service they offer as well as view ratings from customers who have already had some work done.